Blog Entry - my first "Be colourful" quilt pattern
I'm always drawn to beautiful color schemes on fabrics, I actually got into quilting several years ago when I saw a Judy Niemeyer pattern that I simply HAD to quilt up, it was so gorgeous. Since then, there have been many other quilt patterns that have been completed, but the first time I saw the Jacqueline de Jonge "Be Colourful" patterns (coming out of Denmark) I knew that one of these days it had to happen. The process began last September (2015) when the Be Colourful folks had a both at the Chattanooga AQS show and I was able to see it all in person. I bought this pattern, called Enchanted Stars, and the fabric to complete it.
The colors are carefully chosen with this, such that most of the piecing is done with colors coming next to their primary or secondary color opposite in a series. Everything but the black background is paper-pieced, and it's a meticulous process of defining the colors very carefully and then making sure they don't get out of order. And unlike traditional quilting, you piece it together as you go since each unit is completely unique. Fortunately I've had a lot of experience with jigsaw puzzles so was able to do the curved unit piecing...but if I hadn't had as much experience with both paper piecing and curved piecing, it would have been extremely difficult. The end result is worth it though, here is the string of pictures as the quilt was being completed with the final piecing done at the end. This will be quilted shortly by a friend who is an exceptional artist with a longarm quilting machine, and the final version will appear in my fiber art page as soon as it is completed.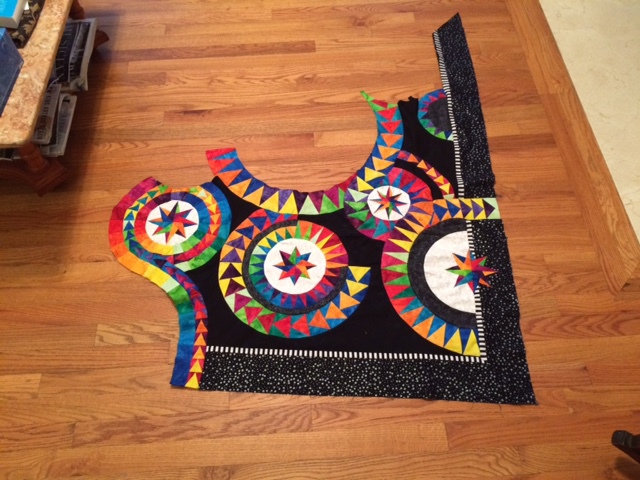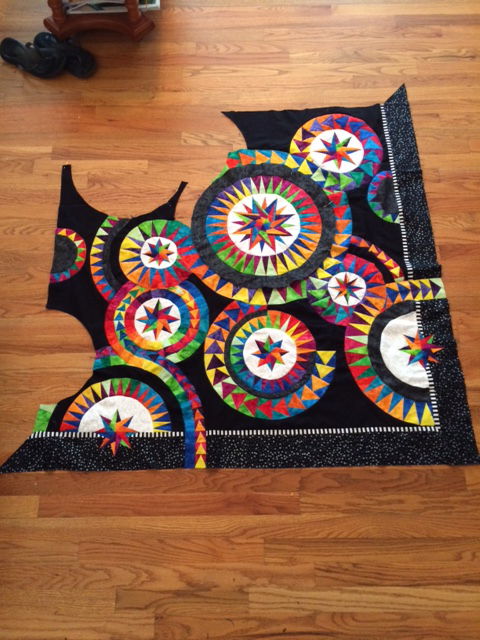 Finished! This is my first but will not be my last Be Colourful quilt to piece!!